When you change your EagleNet password, you will need to make sure to update your computers, phones, tablets, etc. to use the new credentials. Failure to update saved credentials on these devices will lead to your account repeatedly becoming locked as the devices continue to try to access resources with expired credentials. Users often have passwords saved on these devices for connections to the JC-SECURE wireless network, network drives (P-drive for example), printing, and email.
Windows
On Windows, a majority of saved passwords can be changed using the Credential Manager. (Employee machines provided by the college may automatically use the credentials you log on to your computer with to access some of these resources. It is not uncommon for very little to be stored in the Credential Manager on these machines, but it is still advisable to check.)
To access the Credential Manager, open the Start Menu and search for "Credential Manager". Once Credential Manager is open, choose the 'Windows Credentials' option at the top and it will list your stored credentials.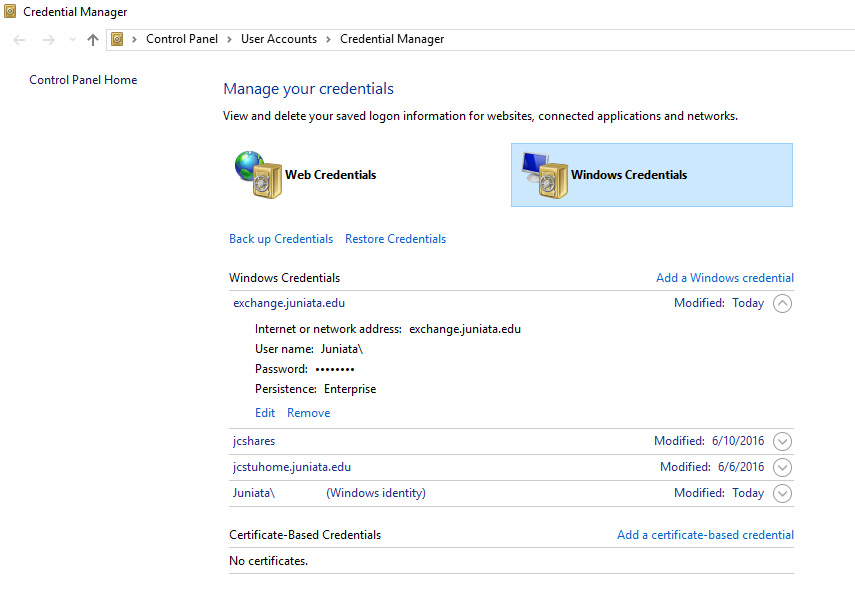 Look for any Juniata credentials in the list and click the down arrow to the right of them. It will then show you information on that credential as well as an option to edit or remove the credentials. Choosing the 'Edit' option will allow you to update your stored password, while the 'Remove' option will completely remove the credential from the machine.
Additionally, if you've ever used the Microsoft Mail program that comes with Windows to access your email you will need to open that program and either remove the account (if you don't use it any more) or update the password stored on it. Even if you do not ever open the program, it will continue to check for mail using any credentials you have stored. It does not show up in the credential manager.
Mac
Most stored passwords are stored in the Keychain Access. To open Keychain Access, click on the magnifying glass icon in the far right of your menu bar and search for 'Keychain'. Once open you will want to use the search in the upper right of the application to look for any of these items you may have saved:

jc-secure - this is the password your computer uses to connect to the wireless network on campus
owa - this should give you a list of all saved passwords regarding to email
print - look for StudentPrintJobs or SecurePrintJobs (if you have specific printers mapped on the network, you may want to search for 'ikonserver' also)
juniata.edu - this will likely return a large list of stored passwords. You will want to look through this list for items of type 'network password'. These items are drives you have connected to and saved your password.
Once you have located an item, right click on the item and choose the 'Get Info' option from the menu. It will open a window showing the information stored for the account. At the bottom of that window, check the box to 'Show Password' and update that password to your current EagleNet password. Click the 'Save Changes' button when complete.
Phone, Watch or Tablet Device
Although settings vary depending on the type of phone or tablet you use, most often you will have your credentials stored to access the JC-SECURE wireless network and also to access your Juniata email.
The easiest way to update your stored password for the JC-SECURE connection is normally to tell the device to forget or remove the wireless network in the devices system settings or preferences. You can then reconnect to the JC-SECURE network and will be prompted to provide your username and password to authenticate. (We recommend that you forget this network immediately after changing your password, although you won't be able to reconnect to the network until you are back on campus. Failure to update this password is one of the quickest ways to lock your account repeatedly.)
If you use your device to check your Juniata email, it will also have your password stored in your email settings. View your email account settings and provide your new password.
Information on managing network settings on an Apple Watch are available at https://support.apple.com/en-us/HT209071
If you have any questions, please visit us at BAC C107 or call x3619.