Note: When creating a new password, use uppercase letters, lowercase letters, and numbers to ensure that your password cannot be easily cracked or guessed. The minimum amount of characters a campus password can be is 8. In addition, you cannot have the same password as another password you have set previously. Passwords may contain only numbers and upper and lowercase letters. Special characters like &, #, and * will not work on the Juniata College system.
USING A CAMPUS PC
To change your password, log on to a campus owned computer or a personal machine on the college domain. To change the password simply press ctrl-alt-del and click on the Change Password button. Enter your old password and your new password twice in the appropriate fields, then click OK. Your campus password should now be changed.
PASSWORD RESET TOOL
Step 1) Campus Technology Services (CTS) offers a tool you can use to change your password or reset your password should you forget it. This tool requires a one-time registration process. To register, visit https://accounts.juniata.edu/showLogin.cc and click User Registration. For step-by-step help, go to http://help.juniata.edu/view_article.php?article=52. You will need to know your Juniata username and your current password to complete the registration process. (If you do not know your current password, please contact the TSC help desk at x3619).
Step 2) Once registered, click on Change Password under Self Service Utilities. sign in with your current password.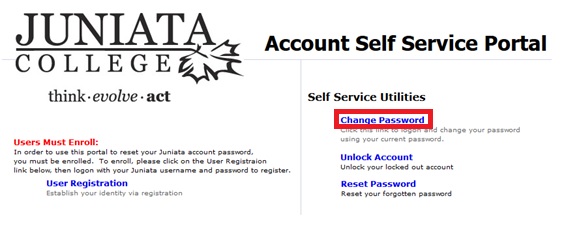 Step 3) Sign in with your current password.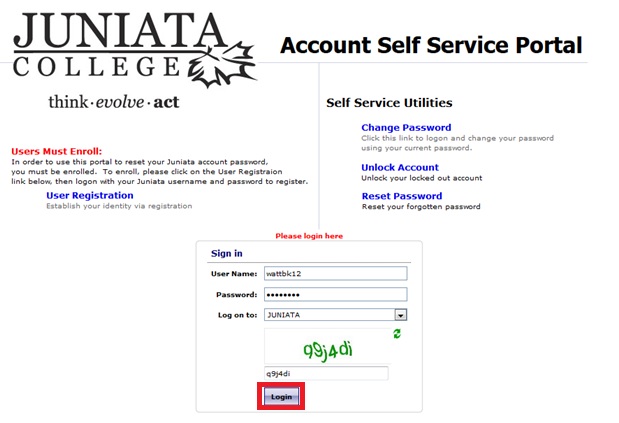 Step 4) Enter your old and new password and click OK.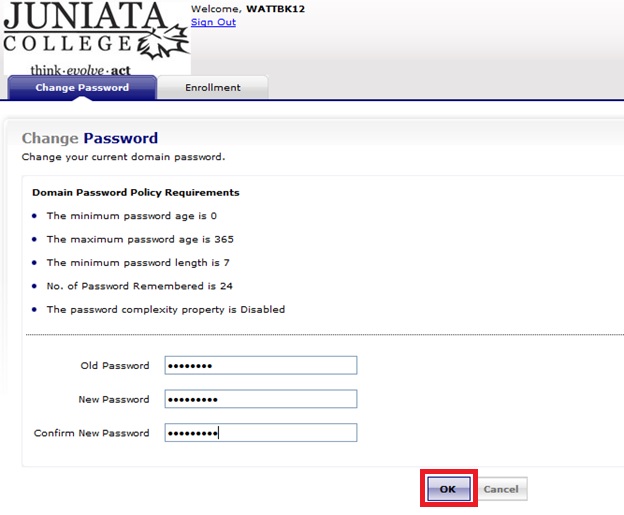 Your campus password has now been successfully changed.
Additional Help
For over the phone assistance call x3619
If you are a current student and want the Help Desk to change your password, you must come to BAC C107 and present ID.
If you are an alumn, you just need to present your student ID (optional) and your home address.