Accessing the JC Public SharePoint Page
Use the link below to navigate to the JC Public SharePoint page. https://livejuniata.sharepoint.com/sites/JCPublic/_layouts/15/viewlsts.aspx?BaseType=1&view=14
If you are not automatically logged in, log in using your Juniata email and password.
Once logged in, click the star button in the upper right corner in order to follow this page. This will give you an easy way to access this page via Microsoft OneDrive.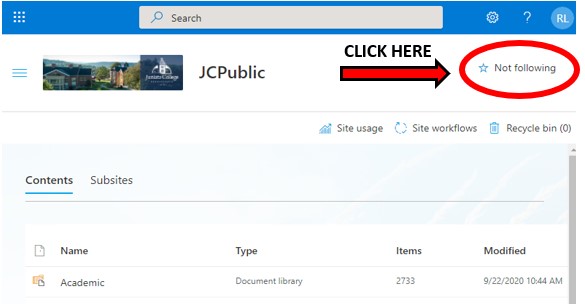 4. You can now either access this page by using the same link provided above, or by going to Microsoft OneDrive page (link below) if you followed the page using the previous step. After signing in, JCPublic will appear on your Microsoft OneDrive page, under the "Shared Libraries" heading on the menu panel located on the left-hand side of the page.
https://www.microsoft.com/en-us/microsoft-365/onedrive/online-cloud-storage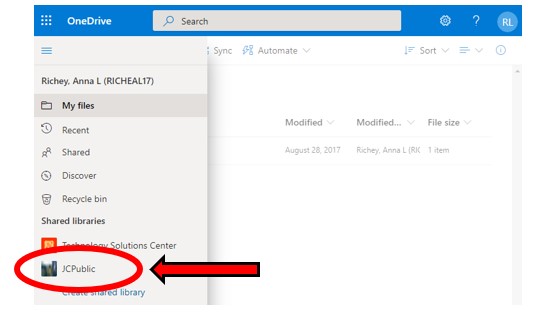 5. The final way you can access the JCPublic SharePoint page is by going to The Arch. Under "Applications" There is a link titled "JC Public File Storage" that will take you directly to the page.
Finding Your Folder
The JCPublic SharePoint is divided into folders similar to the PDrive such as Academic, Administration, Documents, etc.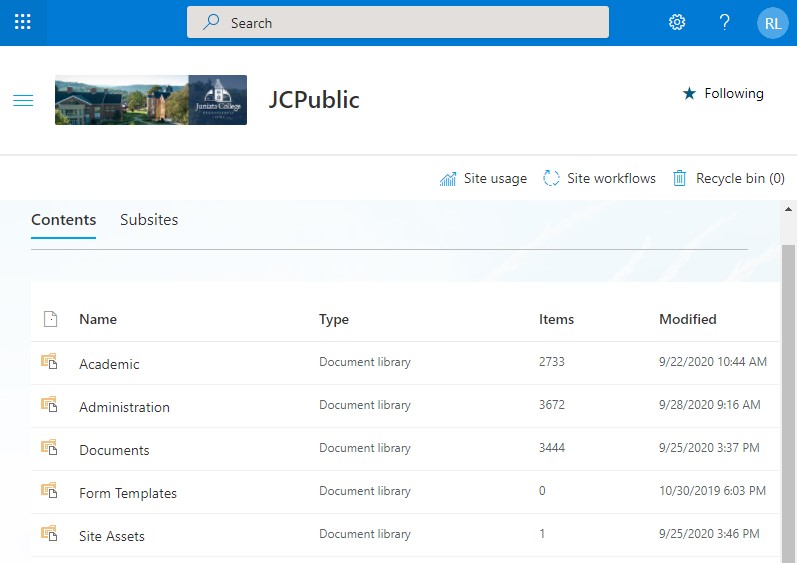 2. Your JCPublic folder will be located within the same folder where it was located in the PDrive. For example, if your folder was located in the "Academic" folder in the PDrive, you would click on the "Academic" folder in SharePoint in order to locate your folder.
3. Once you locate your folder, click on it to open it in order to prepare to transfer files