GoBoard allows you to easily create a new whiteboard or access an existing whiteboard. (NOTE: GoBoard does not work in Microsoft Edge.)
1) Visit https://juniata.goboard.com. You will be prompted to indicate whether you would like to create a new GoBoard or visit an existing GoBoard. If you are returning to a board you have previously worked on and want to have access to the information that was used there, you can specify the board's ID number and return to it directly. Otherwise, indicate that you would like to create a new GoBoard.

2) If you choose to create a new GoBoard, it will prompt you to indicate if you are a tutor or a student if you have not already logged in. The 'Tutor' option will prompt you to create an account (see instructions at http://help.juniata.edu/view_article.php?article=159) which is necessary if you wish to return to the board in the future. If you choose the 'Student' option, you will not need to create an account but it will prompt you for your name and email address so that it can email you the information for the board after your session has ended.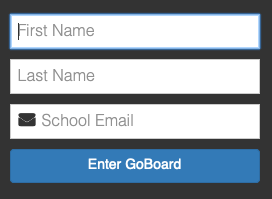 3) It will then load your GoBoard and prompt you to enable your camera and microphone. It is recommend to enable this equipment to maximize the collaborative nature of your GoBoard session.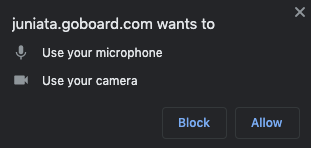 4) You can then invite others to join or indicate that you will add them later.

5) You should now have access to your GoBoard. To invite others to join, either click on the 'Invite Someone' button over your video feed in the upper right or simply provide them with the URL to your board. This URL is unique to your board and can be returned to later from the home screen (using only the text after the last slash in the URL) or by pasting the full URL into your browser.
When you finish your GoBoard session, information on the session will be emailed to the address you provided.