Step 1) Click on Computer under the Start menu.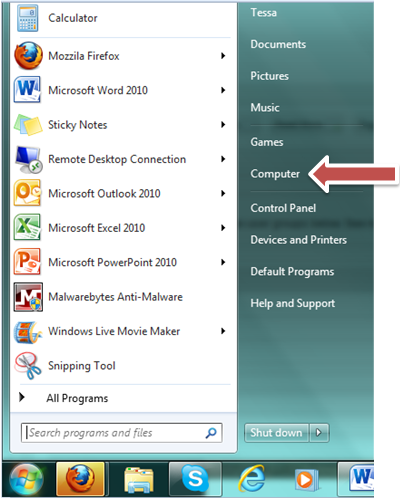 Step 2) Click Map Network Drive at the top of the computer menu screen.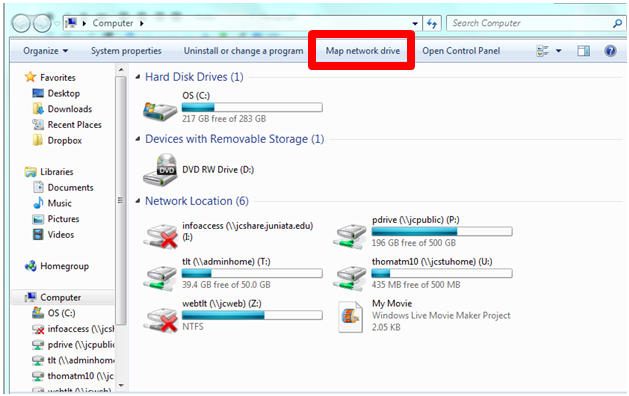 Step 3) On the drive drop-down menu and select a letter that is not taken.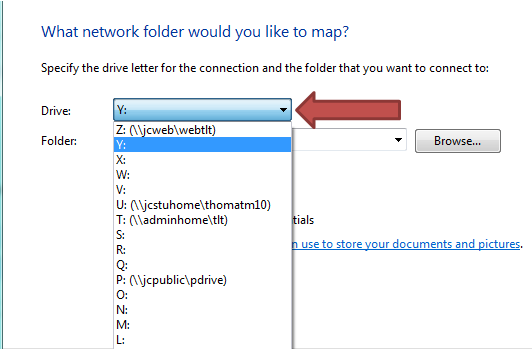 Step 4. In the folder box, type the server name and the share name in this format: \\server.juniata.edu\share
Check both boxes:
-Reconnect at logon
-Connect using different credentials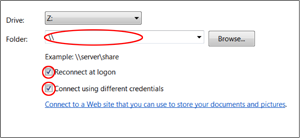 (Departments) W: \\jcweb.juniata.edu\department
(Personal Faculty, Staff, and Students) W: \\jcsites.juniata.edu\username
P: \\jcpublic.juniata.edu\pdrive
(Students) U: \\jcstuhome.juniata.edu\username
(Admin, Faculty & Staff) U: \\jchome.juniata.edu\username

(All Shares) \\jcshares.juniata.edu\sharename
Scanning
(For scanning folders) \\ikonserver.juniata.edu\DepartmentName
Example A: You are in the Athletics department and want to access a scan from an MFD. You would type: \\ikonserver.juniata.edu\athletics
Example B: You are a member of JAB, and want to access your web share on the clubs server. You would type: \\clubs.juniata.edu\jab
Step 5) Click Finish.
Step 6) Type in "Juniata" and then your EagleNet username and password.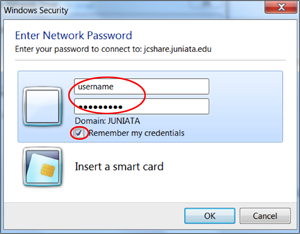 Step 7) Click the check box Remember my credentials and click OK.
If you have any questions, please call the Technology Solutions Center x3619 or visit us at BAC C107.