When sending sensitive data via email, it is important to encrypt the message. Outlook provides this functionality through built-in features.
Step 1) Open Outlook in your web browser at https://outlook.office.com.
Step 2) Begin a new message.
Step 3) Select "Encrypt" at the top of your message window.
Step 4) Once you select "Encrypt", you will see a small banner in your new message window. You can select "Change Permissions" to adjust settings.

Step 5) Use the drop down window to select specific encryption features.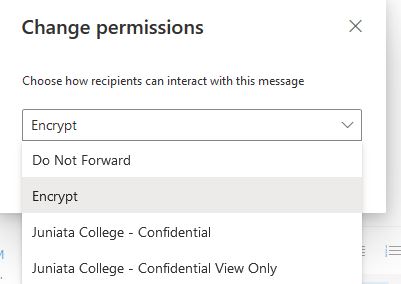 Step 6) Sending an encrypted email to a Microsoft O365 user will open like a regular email. Sending an encrypted email to a non-Microsoft O365 user will required a one time pass code which they will receive via email when they attempt to open the encrypted email. They will be directed to a Microsoft page to enter the pass code.
NOTE: There is a possibility some mail services will treat the encrypted email as spam. You may need to notify the recipient to check their spam folder and move the encrypted email to their inbox to attempt open the email.