Ellucian provides videos with info on how to use many areas of the Colleague (formerly Datatel) system.
To access the system you must first establish an Ellucian Customer Center account. This account provides you access to many Ellucian resources including community forums, the support center and training videos. If you already have an account, skip to the instructions below for accessing the videos. If you do not have an account, please sign up by visiting the registration link at https://clientapps.ellucian.com/SignUp.
Access On-Demand Training Videos
Step 1) Log in to the Ellucian Cusomer Center at https://ellucian.okta.com
Step 2) Under the 'Resources' menu located in the top navigation bar, choose 'On-Demand Training'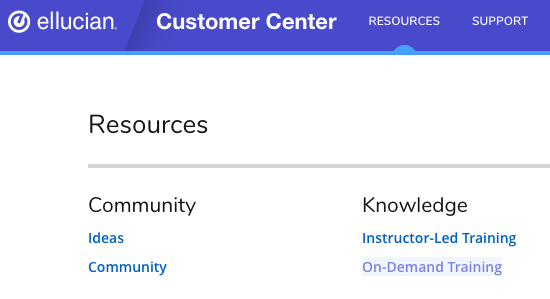 Step 3) Once on the training page, choose 'Colleague' from the 'On-Demand Training' menu.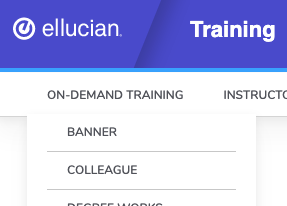 Step 4) Scroll down to see the video categories and click on the 'see courses' link for the relevant category. (Most users will want videos from the Colleague UI5 category.)
Step 5) Click the 'view course' button next to the course you would like to watch. Many of the courses are broken in to separate videos, so the duration you see listed is for the whole course not the individual videos.