FileVault hard drive encryption is a data protection feature available for computers running Mac OSX. Having FileVault integrated with the operating system helps to address the threats of data theft or exposure from lost, stolen, or inappropriately decommissioned computers. FileVault does not require any additional authentication to access the machine during normal operation, using your OSX authentication to allow access to your encrypted data.
Enabling FileVault
NOTE: If you run in to any issues during the process of encrypting your Juniata-owned computer, please submit a work order and we will have a tech assist you.
Step 1) Open 'System Preferences' on your computer. This may be located in your quick launch bar or can be found by searching.

Step 2) Open the 'Security & Privacy' section.

Step 3) Click on the 'FileVault' tab and then click on the lock icon in the lower left corner to allow changes. (Provide administrative credentials for the machine to unlock.)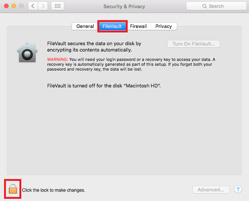 Step 4) Click the 'Turn on FileVault...' button.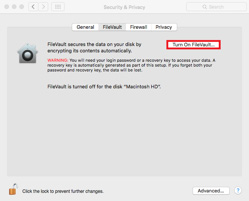 Step 5) You will be prompted to choose how you'd like to unlock your disk if you forget your password. For Juniata-owned machines, please choose the option to 'Create a recovery key and do not use my iCloud account' and then click 'Continue'. (For personal machines, you are welcome to choose either option.)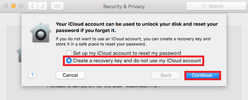 Step 6) Send a copy of your recovery key to help@juniata.edu for our staff to store in case it is needed to work on your laptop or you lose the code.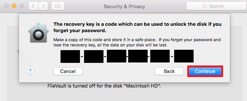 Step 7) You will be prompted to determine which users can unlock the disk. (Note: You must provide the password for accounts other than the one you are currently logged in with. If this is a college-owned machine we will need to enable the 'localadmin' account so that we are able to maintain the machine. Please let us know when you have completed the rest of this process either by emailing help@juniata.edu or submitting a work order so that we can then enable this account.)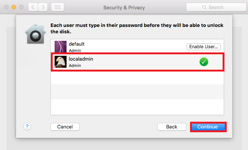 Step 8) You will be prompted to restart your computer to encrypt the hard drive. After you do so, if you return to the FileVault screen you will see the progress as the hard drive encrypts. Once it has completed, that screen will show that FileVault is turned on.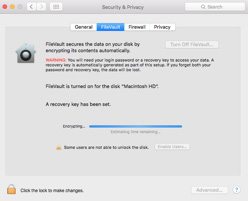 When will I need my FileVault key?
Rarely. The only time your FileVault key should be required is if your machine encounters an issue and maintenance needs to be performed outside of OSX or by removing the hard drive.
If you have any questions, please call the Technology Solutions Center x3619 or visit us at BAC C107.