Faculty are able to add assignments to Moodle that will allow for students to supply video projects.
In Moodle, create a new assignment for your students with a submission type of 'Online Text'. (This could also be a discussion or any other assignment type that has the editor pictured in the student section below.
Students are able to submit video for these assignments using the following steps.
When a student goes to submit their assignment, they will need to use the last of the icons (it looks like an orange ball on top of a gray half circle).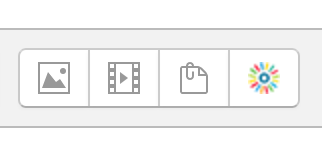 Clicking on that button will bring up a window to 'Select Media'.
If they need to upload a new video, click the 'Add New' button in the upper right and select 'Media Upload' from the list. Click on the 'Choose a file to upload' button and locate the video to upload. After they select a video, it will show a progress bar indicating when the upload is complete. They provide a name for the video and an optional description and tags to help identify it. When finished, they click the 'Save' button. It will indicate that their changes have been saved, at which point they can click the 'Back to Browse and Embed' link next to the 'Save' button.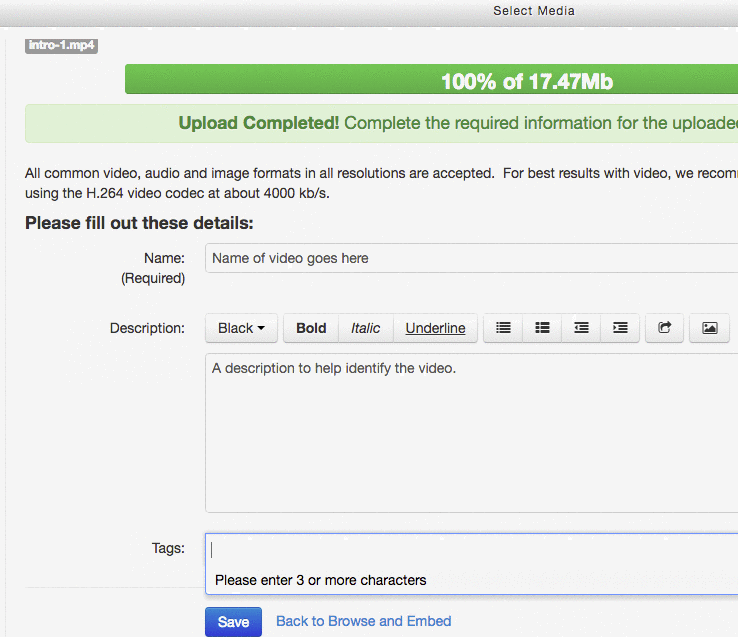 At this point, they press the arrow next to the 'Select' button that appears to the right of the desired video and choose the large display size.
It will show them a preview of the video with a button to 'Embed' the video. Clicking the 'Embed' button will add the necessary information to their submission content area to include the video. Their video will then show up in the 'Online text' box of their assignment in Moodle. From this point they will submit their assignment as normal.
If you experience issues with video in Moodle, please visit http://help.juniata.edu/view_article.php?article=119 for some possible solutions.