Step 1) First, open the control panel. Click Start and then Control Panel.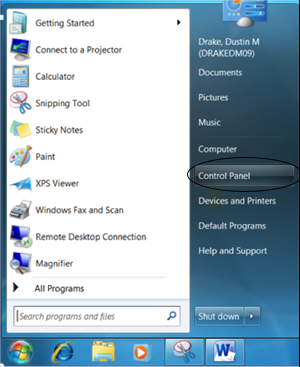 Step 2) Select Network and Internet.
Step 3) Select Network and Sharing Center.

Step 4) Select Set up a new connection or network.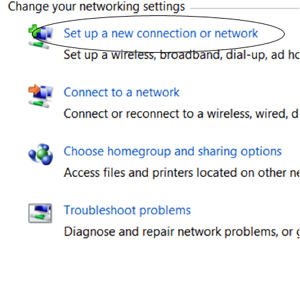 Step 5) Select Manually connect to a network.
Step 6) Press Next.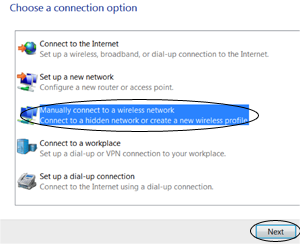 Step 7) Type in information as shown:
-> Network name: JC-SECURE
-> Security type: WPA2-Enterprise
-> Encryption type: AES
Step 8) Make sure the box saying Connect automatically is selected and click Next.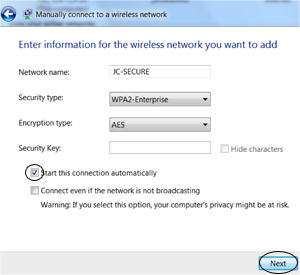 Step 9) Select Change Connection Settings on the page that appears.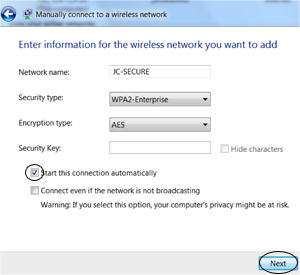 Step 9) Select Change Connect Settings.
Step 10) Click on the Security tab and make sure Microsoft: Protected EAP (PEAP) is selected for the authentication method.
Step 11) Check the Remember my credentials box.
Step 12) Click the Settings button.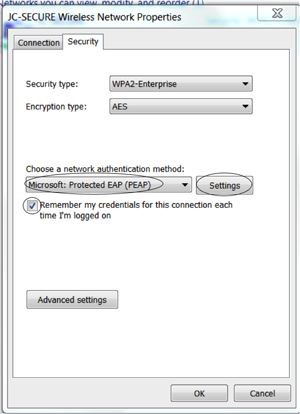 Step 13) Make sure the Validate server certificate is checked and click Configure.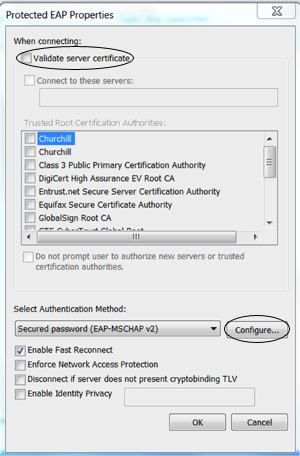 Step 14) Make sure the box is checked and click OK.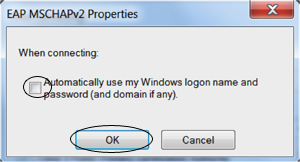 Step 15) Click OK in the Protected EAP Properties window.
Step 16) Back on the security tab, click Advanced Settings.
Step 17) Check the Specify Authentication Mode box and select User Authentication from the drop-down list.
Step 18) Select Save Credentials.
Step 19) Enter your Username and Password and click OK.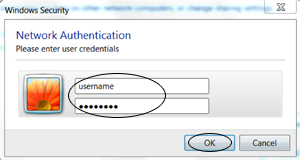 Step 20) Click OK and close out of any remaing windows. You are now connect to JC-SECURE.
If you have any questions, please call the Technology Solutions Center x3619 or visit us in BAC C107.