Instructions on how to add the campus-wide printers to your personal computer can be found in our knowledge base at http://help.juniata.edu/articles.php?category=7. Once you've installed Student Print Jobs on your computer, you can send a print job how you normally would at home, except use Student Print Jobs on Ikonserver as the printer.
Color printing is now available for students. Color prints will deduct 5 cents from your $10.00 balance. B&W prints will deduct 1 cent.
STUDENT PRINTER LOCATIONS
When you click "Print" from your computer, you'll be able to go to any MFD on campus and pick up your print job. Student MFD Printers are located in:
Beeghly Library * (Color Printing Available for Students)
BAC - C107 - Technology Solutions Center * (Color Printing Available for Students)
BAC - P201
Ellis Hall - Cyber Cafe (Eagle's Landing)
von Liebig - 2nd Floor (near the water fountain)
Good Hall - Lounge 216
South Residence Hall - Lounge
---
HOW TO PRINT YOUR JOBS
Step 1) Go to any printer listed above and type your student ID number into the number pad. Your ID number is the 7-digit number located in the lower right corner of your Gold Card. If the number on your Gold Card contains only six digits, add a zero to the beginning of the number to make 7 digits. (For example: if your number is 123456, then your PIN is 0123456).
Step 2) After you enter your ID number, press the Login button in the lower-right corner of the touchscreen.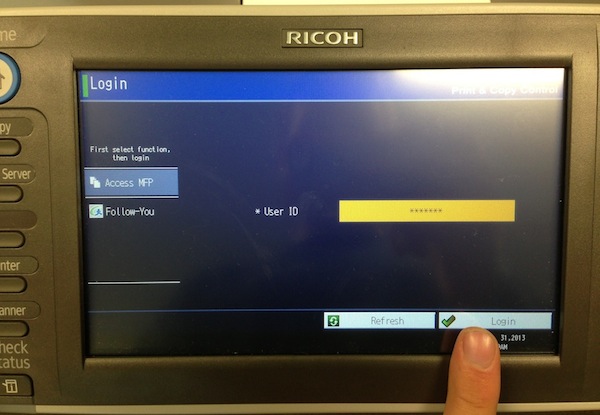 Step 3) If you want to print everything you've sent to the printer, you can click the third button that says Release All and all of your print jobs will print. You can also select the second button, Follow-You Printing, to perform other functions: select and print only certain print jobs, print & save, force B&W, remove a job, etc...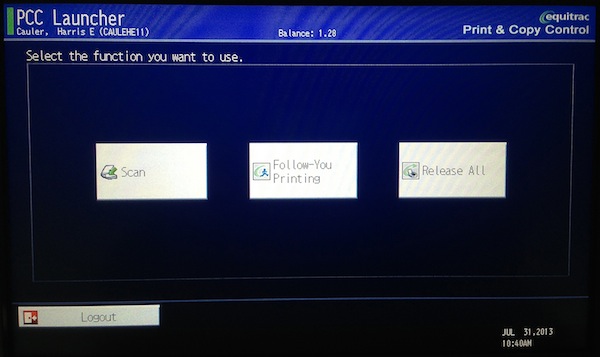 Step 4) If you chose Follow-You printing, you'll see the screen below. You can press on the name of the print job, then click the Print button on the left-side of the touchscreen or the green Start button on the number pad. You can also click Print & Save to access the same job again at a later time.
If you send a job from your computer with color printing enabled and use a printer with color capabilities (TSC, Library), it will print in color and you will be charged for color.
If you want to print a document in B&W, but you selected color when printing from your computer, you can select the name of the job, then press the Force B&W button then the Print button to ensure the document prints in black & white - and that you won't be charged for color.
If you need help changing the default settings on your computer so that it always prints in B&W and double-sided, please come to the TSC in BAC C107 - one of our Lab Assistants would be happy to help.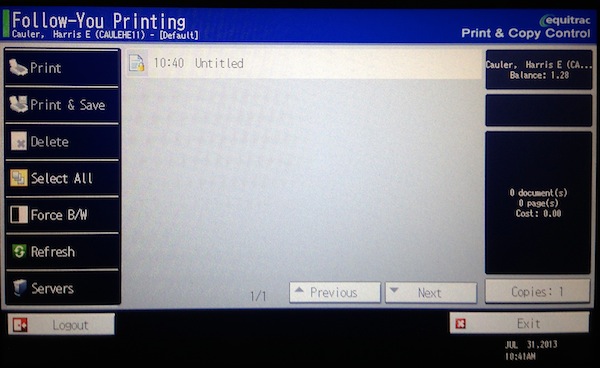 Step 5) When you're finished printing, you must Logout. The following screen may appear as a summary of your print actions. Please click the button labeled OK in the bottom-right corner of the touchscreen.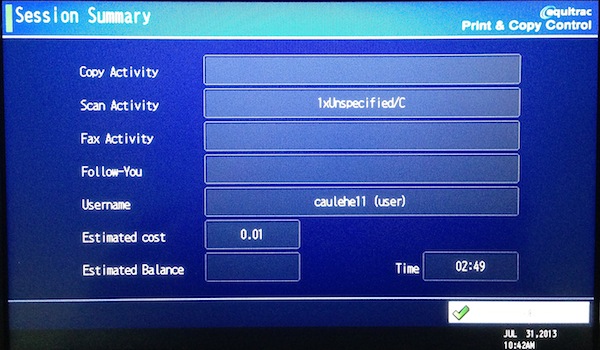 If you have any questions, please call the Technology Solutions Center x3619 or visit us at BAC C107.