Step 1) You need to enable something called CUPS in order to set default settings. Click on the Spotlight icon (looks like a magnifier glass) in the upper-right corner of your screen. Type "terminal" in the search bar and click on the first application that appears in the list (see below)

Step 2) When the Terminal window opens, wait a few seconds, then copy and paste the following command exactly as it appears below then press the return key on your keyboard:
cupsctl WebInterface=yes
Step 3) Quit Terminal and then open Safari and go to http://localhost:631
Step 4) Click on the Administration tab across the top of the page.

Step 5) Click on the 'Manage Printers' button to view your list of connected printers. Click on the printer you wish to change settings on from this list.
Step 6) In the second drop down box, choose the 'Set Default Options'
Step 7) If prompted to authenticate, enter the username and password you use to login to your Mac (not your Juniata username/password).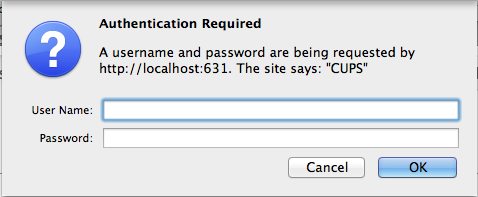 Step 8) There are numerous default options that can be set from this area. These options will vary by the printer and printer driver you have installed on your computer.
Black and White - Click on the 'Basic' link and then change the 'Color Mode' option. Click the 'Set Default Options' button.
Print Two-sided - Click on the 'General' link and then change the 'Duplex' option to 'Long Edge'. Click the 'Set Default Options' button.
Note that after clicking the button to 'Set Default Options, you will be returned to step 6.
Step 9) When finished, simply close Safari and your default options should now be set.