Digital video storage is provided for your courses in Moodle through a cloud hosted service from Kaltura. To include video in your course content or assignments, please follow these steps:
Turn editing on and click the 'Edit' or 'Add an activity or resource' link as you normally would to work with the content.
In the 'Content' area of the edit screen, click on the Kaltura button.

Clicking on that button will bring up a window to 'Select Media'.
If you need to upload a new video, click the 'Add New' button in the upper right and select 'Media Upload' from the list. Click on the 'Choose a file to upload' button and locate the video to upload. After you select a video, it will show a progress bar indicating when the upload is complete. Provide a name for the video and an optional description and tags to help identify it. When finished, click the 'Save' button. It will indicate that your changes have been saved, at which point you can click the 'Back to Browse and Embed' link next to the 'Save' button.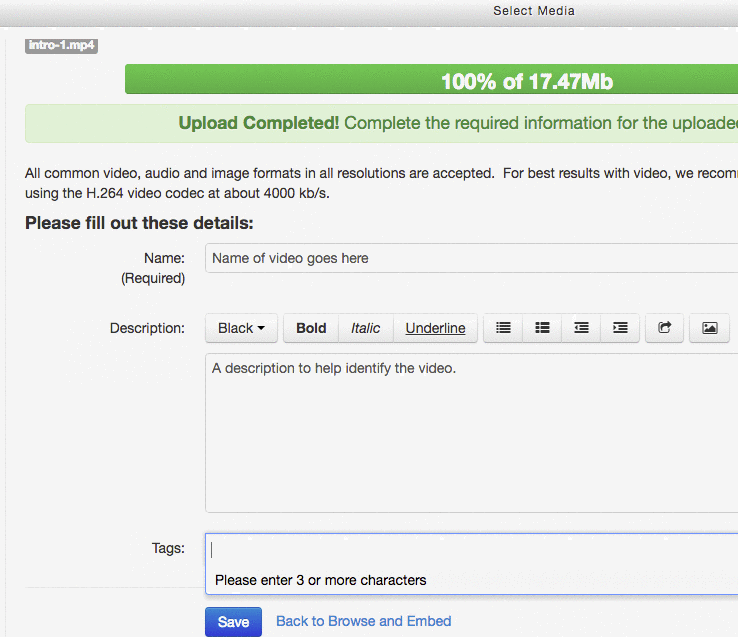 Press the 'Select' button that appears to the right of the desired video. (There is an arrow next to the button that will allow you to choose from display sizes available.)
It will show you a preview of the video with a button to 'Embed' the video. Clicking the 'Embed' button will add the necessary information to your content area to include the video.
After providing any additional information you'd like to include with the course content/assignment, click the 'Save and display' button to save your work and view the material.
If you experience issues with video in Moodle, please visit http://help.juniata.edu/view_article.php?article=119 for some possible solutions.